1. Jack's Pizza
Jack's pizza is a local favorite for smoking inside despite the ban, doing cocaine until 4am, and using Grindr to meet up with people at neighboring establishments. Not many people realize they also serve pizza! Try the "Jason" which has mac and cheese and hot dog toppings. Or don't, you're really high. Chain smoke in the back for now and maybe order something next time.
2. Cameli's Pizza
Home of Atlanta's monster slice, this gay coke bar has many food offerings. "The Prince" is a delicious slice with a creamy garlic sauce base, chicken, onions and mozzarella. The largest food item on this list, it's probably a bit much right now for your waning appetite, but it'll be a great Instagram picture. Let everyone know just how gay and hungry you are with the tag #monsterslice.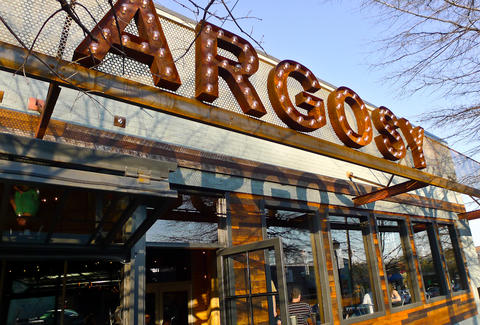 3. Argosy
For a more high end cocaine fueled gay pizza experience, try Argosy in East Atlanta Village. Brick oven style pizza and flatbread pair well with the large beer and cocktail selection, which you will certainly be grateful for after your fourth trip to the bathroom. Leave the flatbread you ordered on the table, it was mostly a place holder. The hostess will be annoyed but there's nothing she can say if you keep telling her you're "still working on it."
4. Savage Pizza
Located in the heart of historic Little Five Points, right besides gay coke clothing and record store Junkman's Daughter, sits Savage Pizza. The meat lover's specialty pie is highly recommended by the local LGBTQ, homeless, and college football communities. Why not do a key bump with a closeted Auburn fan? The world is your gay oyster.
5. Arby's on Howell Mill Rd
While a less traditional part of this list, it's truly a secret treasure. Close to Arby's corporate and local breweries, the place is swarming with bears. The pizza slider is a small and affordable bite, and gives you a great excuse to sit in the bathroom for half an hour, manically railing lines off of your phone before you head back to Urban Tree Cidery to meet up with the otter you met an hour ago at Monday Night Brewing Company.